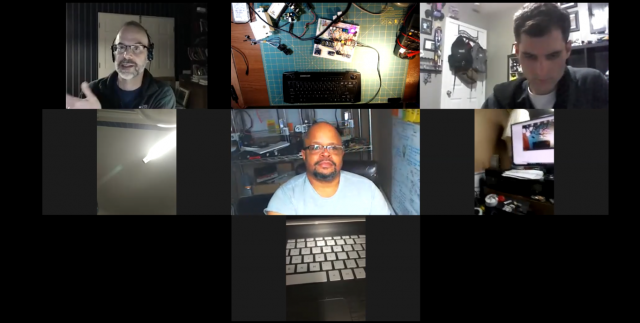 Due to public health concerns, the Adventure Science Center was closed during the March meeting. As an alternative to our traditional in-person meeting, we hosted our meeting online using the Zoom conferencing software.
As this was a new way for us to manage our meeting, it was an interesting learning opportunity. Several of us joined with some people opting out of directly participating - listening quietly instead. While the video below is not the best quality, you can view the entire 3+ hour meeting below. We learned a lot and the April meeting - that looks like it will also be held exclusively online - should be better.
However, we did get positive feedback from some members who have logistical issues attending our in-person meetings so, we are now looking at options for adding this new online option to our regular monthly meeting once they resume. You can view the meeting below and, if you go to YouTube to view the meeting, you can skip to the chapters listed in the description.
Timeline:
Announcements: 9:00
Show and Tell begins: 15:07


S & T: Patrick - Otto Robot: 16:21
S & T: Scott - Workbench, Borne 2, Security System: 25:59
S & T: Jason - Combat Robots, Workbench, 3D Printer Enclosure: 31:21
S & T: Quincy - Quadraped progress on actuators: 54:07
S & T: Lennox - Suspension Idea: 1:06:14
S & T: Group - Fustion 360 and alternatives Discussion: 1:10:44
S & T: Jenn - Interactive mechanical flower exhibit: 1:24:00
S & T: Lennox - Request for circuit bending assistance: 1:56:11
S & T: Jenn - Mohit Bhoite - Interactive artwork group project idea: 1:57:55
S & T: Peter - Workshop tour and stock bot (python based project): 2:09:07
S & T: Andy - Workshop, IoT dev board, Audio exhibit box: 2:36:36
S & T: Bobby - HMI Displays: 2:55:16
Chat
09:54:25 From Peter: be on in a minute. grabbing coffee and headed up to the shop
09:54:53 From Andy: Grab me a coffee too, please! :P
10:11:34 From Patrick: Good Morning
10:15:21 From Andy: Udemy: https://www.udemy.com/
10:15:40 From steve: https://www.coursera.org/specializations/robotics
10:16:13 From steve: https://www.udacity.com/course/robotics-software-engineer--nd209
10:17:24 From Jason: not me, im muted lol
10:17:35 From lennox: I though I had had it muted
10:18:15 From Jason: working from home 100%
10:19:06 From steve: python coursera: https://www.coursera.org/courses?query=python
10:25:14 From lennox : that's funny
10:27:54 From steve: micro servos with metal gears: https://www.amazon.com/gp/product/B07QR4M3MV/ref=ppx_yo_dt_b_search_asin_title?ie=UTF8&psc=1
10:41:23 From lennox: is that mo from wall-e?
10:41:43 From lennox: *moe
10:43:23 From Patrick: Yes. The designed was base off of him.
10:43:48 From Patrick: His name is "MOE" Mowing Over Everything. lol
10:44:09 From lennox: nice
10:49:39 From lennox: I can exsplane this once every one is done talking
10:50:18 From Patrick: Cool
10:58:12 From lennox: i could share next
10:58:44 From Patrick: Sry. Didn't see this till now.
11:01:01 From Bobby: Can I go ahead and start a request for a Fusion 360 workshop/training class?
11:01:18 From lennox: that would be good for me
11:01:37 From lennox: i'v always wanted to learn a CAD program
11:02:22 From Bobby: I've always used simpler programs like tinkercad and such and they got me pretty far, but for anything more than simple parts, fusion 360 is the way to go
11:03:05 From Bobby: would love to see someone that knows how to use the program, show their workflow
11:03:06 From Jason: i love fusion, but still use tinkercad for lots of designs
11:03:35 From Patrick: +1 for Tinker. Fusion 360 class would be awesome!
11:03:45 From lennox: i got half way in tinkercad trying to make the outside of a car i'v been desining. only being abled to start from primitives was not helpful
11:06:52 From Patrick: Ok....I want a circuit board design class !!!
11:07:38 From lennox: yes
11:10:43 From Patrick: Lennox
11:10:52 From Patrick: Picture from earlier.
11:25:58 From lennox: fact: i hear that the tesla cyber truck doesn't have a standerd chasie, and that it uses the steel shell for support.
11:26:13 From Patrick: Affirm
11:28:41 From Patrick: Love it!
11:29:00 From Bobby: Get ahold of Disney Imagineers for Avatar park
11:30:13 From lennox: that looks cool
11:34:53 From lennox: i have an idea for jenn
11:39:57 From lennox: if you want it to be strong maybe you coul have springs in between the main mecinisem and motor, that way its abled to be moved from the outside without damaging the motor
11:40:26 From Andy: That's a good idea
11:41:16 From lennox: nematics would work
11:43:20 From steve: probably will need motor to move syringe though
11:43:45 From lennox: yeah
11:44:22 From Jason: i think pneumatic would be way to go. would be very durable if someone were to grab and force move it also
11:44:51 From lennox: the RGB leds take it to the next level
11:44:58 From lennox: i like it
11:46:21 From steve: I used piano wire for my climbing robot gripper.
11:47:17 From lennox: MAXIMUM POWER
11:47:40 From steve: might be cool to build controller board for each flower, then use central controller for sending commands to individual flowers.
11:48:27 From steve: could use dmx or midi to each board.
11:48:53 From lennox: whats dmx?
11:49:02 From Bobby: RN4870-I/RM128
11:49:33 From lennox: ok
11:49:34 From steve: the protocol is very robust
11:56:12 From lennox: yeah, thanks for making this happen
12:01:22 From Patrick: Tony Youngblood
12:03:42 From Patrick: https://www.bhoite.com/
12:06:45 From lennox: youtube's gotten me pretty far when learning about electronics
12:07:28 From lennox: he could make a good amout of money if he sold these
12:07:45 From lennox: wow
12:12:58 From lennox: bye
12:16:23 From lennox: is 80 20 length to weith?
12:16:32 From lennox: i can't spell
12:59:54 From Peter: Jenn, are you drinking a beer!? :D
13:00:02 From Peter: YES!
13:02:14 From Bobby: https://4dsystems.com.au/products/featured-products
13:08:40 From Peter: Hey guys, tablet died and I gotta run. Thanks for having me on the call. It was great seeing what everyone is up to! Hope to have another call soon and see what everyone is up to!
13:10:38 From Andy: Glad you could join us!