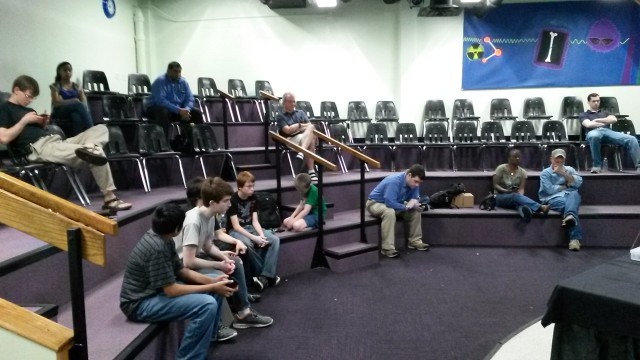 First, I'd like to thank everyone for attending this past Saturday morning. Because of you, the event was a lot of fun! This meeting was the first at our new time of 10AM CT. As Patrick stated in the event details on our facebook page, "...we will be be able to host workshops starting around 1:30pm. This opens the door for lots of possibilities. Want to spend an hour teaching Arduino? What about 3D printing? Have an idea for a badge build? We can now better accommodate these types of events with our new schedule." We did have an open workshop during our afternoon workshop time. More on that below.
Regular Meeting - 10AM
We began our meeting a little late this morning to allow folks to adjust to the new time. We did get underway around 10:30 with announcements of upcoming events as highlighted below. These will also be listed in our Events Calendar.
Thank you!
A big thank you to the following presenters:
Jason Foley - Jason brought in a full 3D VR setup complete with Oculus Rift, steering wheel, foot peddles, hand held controller, laptop and more than a dozen virtual worlds to display. It was easily one of the biggest hits of the day.
Russ Hoffman - Russ demonstrated a set of "Wobbling Discs" he 3D printed. They illustrated a mathematical concept that allowed two overlapping discs to role like a wheel. Russ later posted a link to the design files at Mega on our facebook page.
We also spoke about the new MTRAS.com website and objectives for the site as the group grows.
Afternoon Workshop - 1:30PM
During this first workshop, a couple of groups formed to look at, work on, and discuss various items. One group worked on a quadcopter that the science center owns. They were trying to figure out why it is not responding to commands as expected.
Just about everyone took a turn enjoying Jason's VR setup. Many enjoyed racing cars, riding an amusement park ride, and I took a stroll aboard the Starship Enterprise.
Most folks broke up into groups to discuss technical details or issues they were having with their own projects.